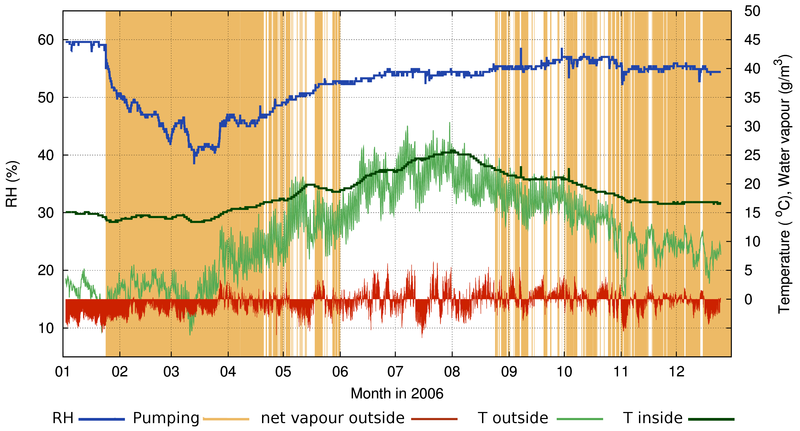 Figure 8 shows the result of this sensitivity test, where the ventilation was first run continuously during the winter, when its effects would be mostly bad - reducing the RH because of the low moisture content of the outside air reacting to the relative warmth of the archive. In summer, the ventilation was stopped, in a period of generally high external water vapour content which would tend to increase the inside RH.
The RH dropped fairly quickly in winter, when the ventilation was 0.5 air changes per hour, falling 10% in the first week and another 10% in the next month. This would not be catastrophic but it indicates that the air exchange rate overwhelmed the buffer capacity of the archive. The inside RH picked up again in late March with a sudden rise in ambient temperature. The winter dip in the RH from 60% to 40% RH would be acceptable in many museum collections of robust materials, but is certainly not ideal.
The summer RH increased in mid June but then stabilised from July onwards because the inside temperature rose above the ambient average, while the summer ambient RH is relatively low. It seemed that the moisture sensitive ventilation system might not be necessary. When normal operation resumed from late August, the RH became more irregular, though remaining within a 5% band of RH. In some years, however, the forced ventilation has definitely improved the RH stability in summer.
Comparison of measured with theoretical performance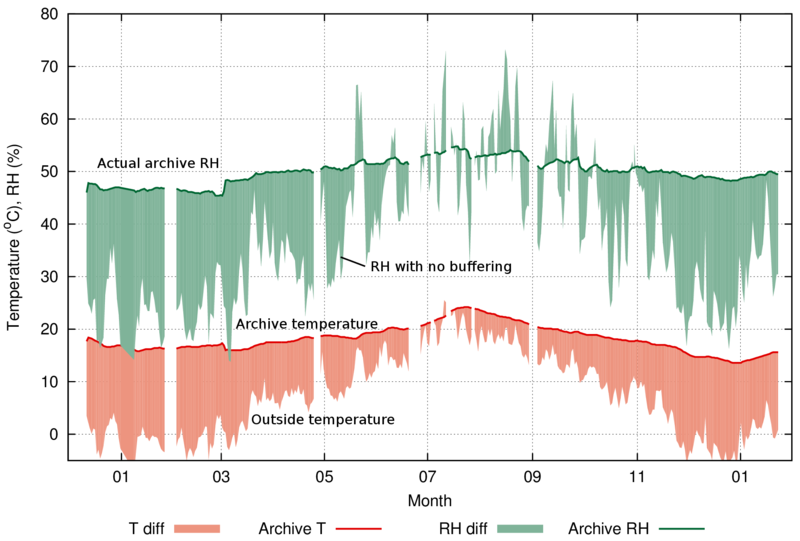 Figure 9 compares the measured RH with the expected RH, assuming no buffering. The theoretical RH for an unbuffered, ventilated room at the actual temperature of the archive drops down in winter but is not matched by a comparable rise in summer. There appears to be a permanent excess of water vapour within the archive. However, this can not be confirmed by this diagram, because it shows the relative humidity, which is a potential, not a concentration. To investigate this mystery, we have to look at the mixing ratio of the inside and outside air masses.

The mixing ratio is the weight of water vapour mixed with unit weight of dry air. The mixing ratio does not change on infiltration, as the RH does, because as the air expands into the warmer archive, the ratio of water vapour molecules to air molecules remains the same.
Over the full year, the average mixing ratio inside should be the same as outside, otherwise, there must be an independent addition of water to the inside air. This seems to be the case. The outside to inside mixing ratios were 44:56. This is the ratio of areas under the curves in figure 10. The most significant infiltration is from the corridor and from the adjacent office. Also, workers within the archive will add water vapour directly (see figure 11).
Air pollution