A recent chance observation on a local railway station cleared up a mystery that had perplexed me ever since my college days.
Oxford University in the early sixties was mostly a man's world, with about ten percent women. The inequality was compensated by a number of finishing schools for the daughters of the gentry. One of these ladies played the flute in an amateur orchestra and we first exchanged words when I inadvertently emptied the accumulated condensation in my bassoon down her neck, as she fluted serenely on the next step of the steeply sloping orchestra stage.
The relationship dried out later, but not before she had invited me to a party at her daddy's country house, a modest mansion with forty bedrooms and an impressive collection of ancestors in oils.
The collection was about to be augmented by a portrait of the present master of the house, who was also a retired Major in the Frightfulshire light infantry, a baronet, master of the local foxhounds and was exactly 50 years old. The painter, who had attended the same chemistry classes as me but had left to go to an art school, invited me into the temporary portrait studio. He had decided to protect the painting with glass, because he had only just finished it and was afraid that the guests would touch, or brush against the portrait and destroy it.
Now it was time for the presentation. It had been a successful hunt that day, two foxes had been killed and the ritual daubing of the youngsters with the blood of the severed tails had been performed with parental fondness. The guests gathered in the evening sunshine on the lawn outside the ballroom to honour the birthday baronet. The portrait was superficially a touch flattering but had nevertheless caught the personality of its subject, because as the afternoon sun illuminated the portrait, blood began to ooze from the mouth and nose and dribbled down the tunic.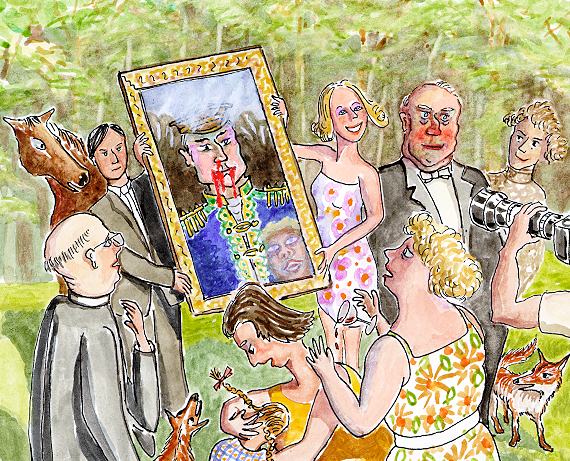 There was considerable embarrassment, particularly as the photographer from 'Country Life' had been invited and also the mayor and the bishop, eager huntsmen all. Suspicion first fell on the painter, who had also, unknown to me, been collected by the flute player. He pointed to me, saying that I had had access to the painting and was a chemistry student, capable of all sorts of cunning tricks. The suspicious interest of the guests was fortunately snuffed out by the Bishop, who said that the painting must be exorcised at once in the chapel and led the way, while I was left to wonder if it was wiser to flee or to stay.


This work is licensed under a Creative Commons Attribution-Noncommercial-No Derivative Works 3.0 License.